The arrival of fall signals more than just cooler temperatures and rustling leaves. For many of us, it's the start of the holiday season. It might be cozy gatherings, even if it's just with one other person in front of a fire pit or movie. Or maybe that autumnal vibe only comes with costumes and candy for the kids. No matter what fall looks like to you, Schlage wants to help you usher the season in with style. Try these 23 fall front porch ideas you can DIY today.
NATURAL FALL WREATH » FINDING HOME FARMS
All you need is a trip to the craft store, or even just your backyard depending on where you live, to pull this natural fall wreath together. Its understated style is just what you need if you gravitate toward rustic or farmhouse design.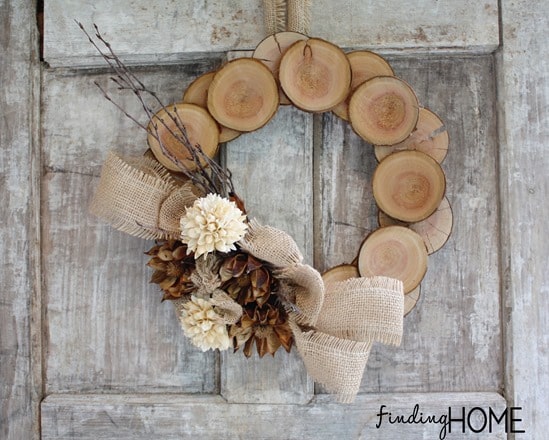 A WREATH FOR ALL SEASONS » CRIBBS STYLE
Not all fall décor has to be orange, yellow and rusty reds. This more subtle approach may be more to your liking, especially if you live in a warmer climate. It has the added benefit of transitioning well into winter. Simply swap out the blooms, sunflowers in this case, for something in the bright red or ice blue family, and you're set for the next season.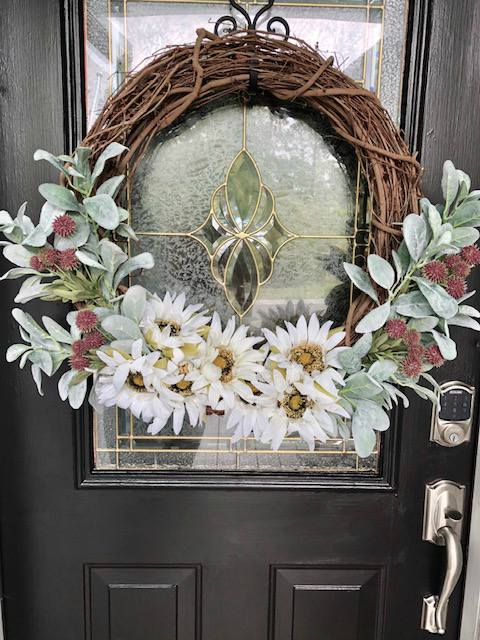 WARM-WEATHER FALL WREATH » LIVING GREEN DESIGN ON HOUZZ
What can you do if you live in a warmer climate but still want to enjoy all that fall has to offer? Try sticking with traditional fall colors to start. Then put a regional twist on your favorite fall wreath ideas. Here they used fruit, still in the oranges, yellows and reds we expect, but more appropriate for sunny California, especially against that vibrant door.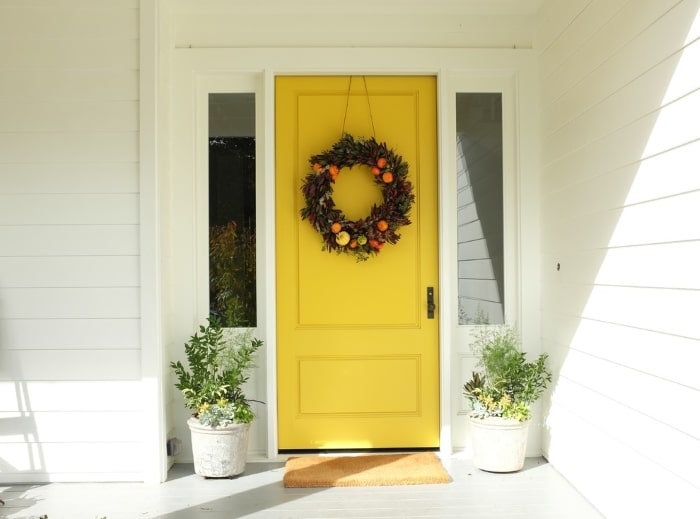 Photo by Living Green Design - Browse entryway ideas
VETERAN'S DAY PORCH DECOR » TATERTOTS & JELLO
It's easy to zoom straight from Halloween to Thanksgiving, but don't forget about Veteran's Day in early November. Get inspired by Fourth of July décor and tweak it for the season. We like this neutral-colored patriotic wreath that still shows national pride but without the vibrant red, white and blue that might look amiss in the fall.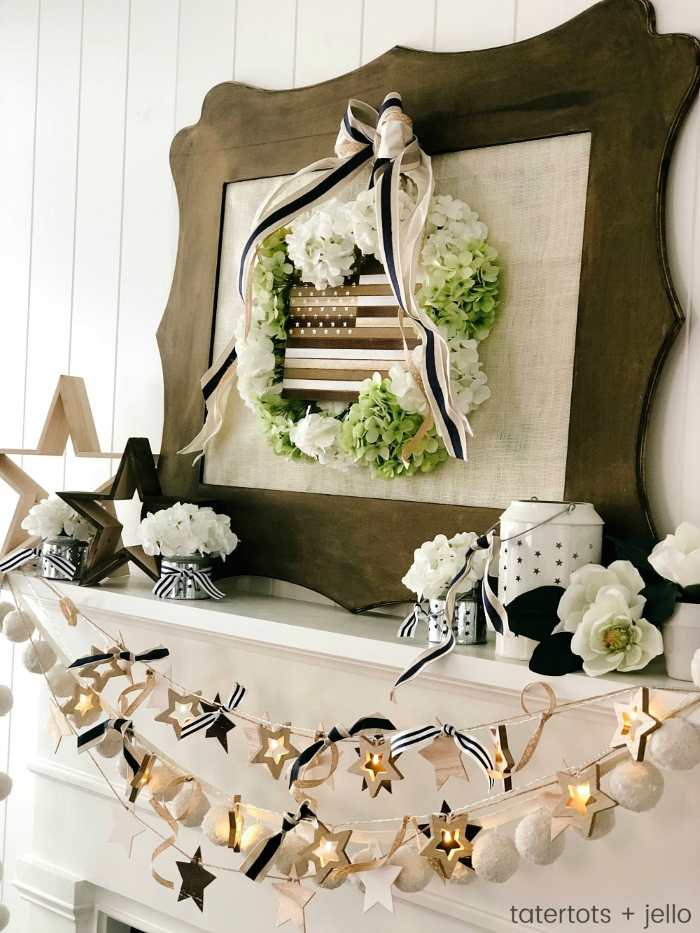 NOT-A-WREATH DOOR DECOR » JAIME COSTIGLIO
Shake up the front door décor by skipping the wreath and opting instead for giant tags. Their "give thanks" message, honestly, works year-round, but you really can't go wrong with them as the holiday season approaches. Feel free to branch out, though. Choose your own message to welcome guests in your unique way and make this DIY fall project your own.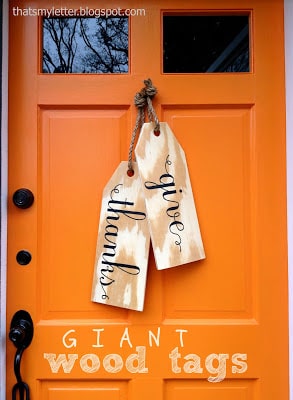 FRESH, FALL-FRIENDLY DOOR » HGTV
If you've been thinking about a new coat of paint for the front door, maybe this is the ideal time to go for it. Don't be afraid of rich colors that will serve as the perfect backdrop for your fall porch décor and beyond. Remember that switching out accessories, from your wreath to the door hardware, can give that entryway a fresh look.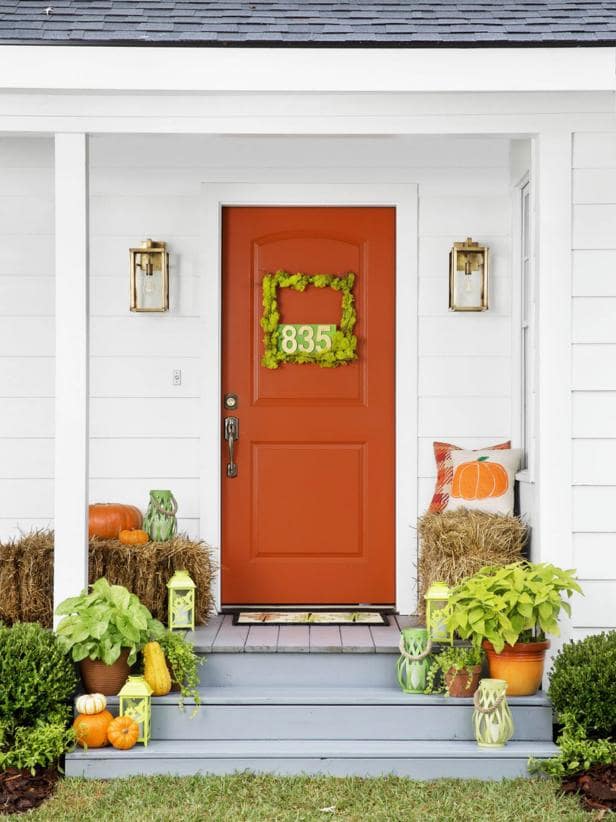 DIY PUMPKIN DOORMAT » BETTER HOMES & GARDENS
Is it really a porch without a doormat? Plenty of stores, online and in person, have pre-made mats for any time of year. But you can put your personal touch on a basic coir mat with some paint and stencils, making this one of the simpler DIY fall projects to try.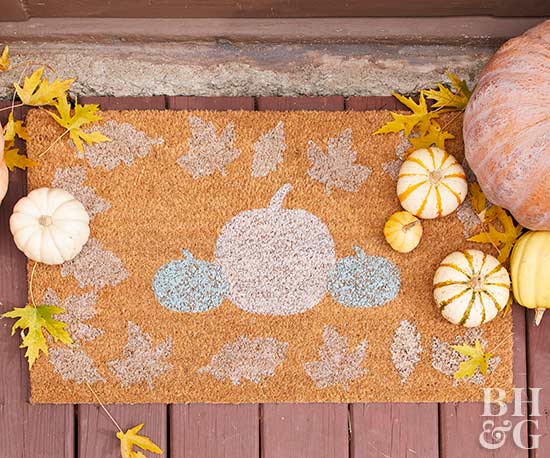 Photo by Better Homes & Gardens
FRONT PORCH CHALKBOARD » ELLA CLAIRE & CO.
Maybe the best part about this fall porch sign is its versatility. The message is entirely up to you. Change it daily, weekly or with the seasons. Paint it to match your door or house, or pick a contrasting color for an extra pop. It's entirely up to you.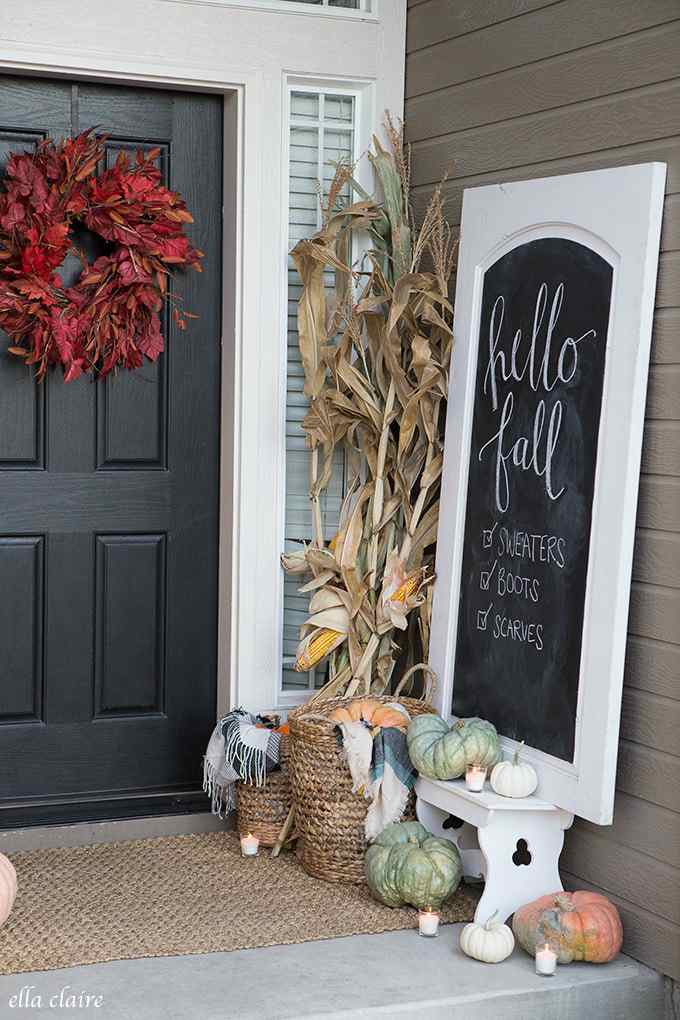 PALLET SIGN FOR FALL FRONT PORCHES » TARYN WHITEAKER
We've all seen the signs made of a single board with something seasonal stenciled or painted on them. Those are great, especially if your porch is on the small or narrow side. For something less common, though, try a pallet sign. It can still be painted, stenciled or embellished any which way you choose, but more real estate might mean more design options.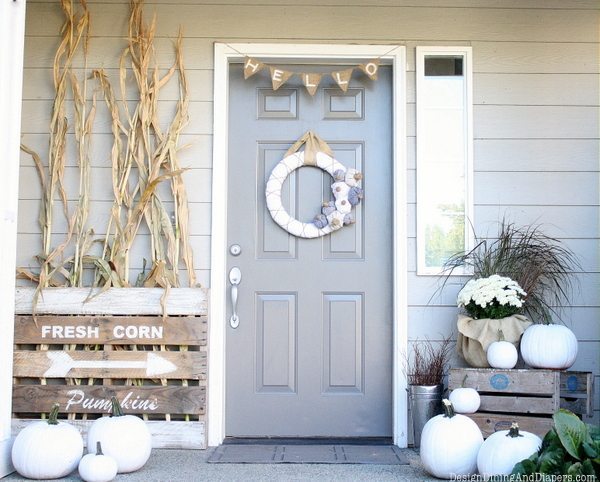 HOUSE NUMBER PUMPKIN STACK » AT THE PICKET FENCE
We love décor that pulls extra duty. This pumpkin topiary would be festive enough on its own, but add the house numbers and you have something that's as functional as it is fun. Use faux pumpkins so they hold up well beyond Halloween. We think a fourth pumpkin with "welcome" painted on it would be a nice touch here as well.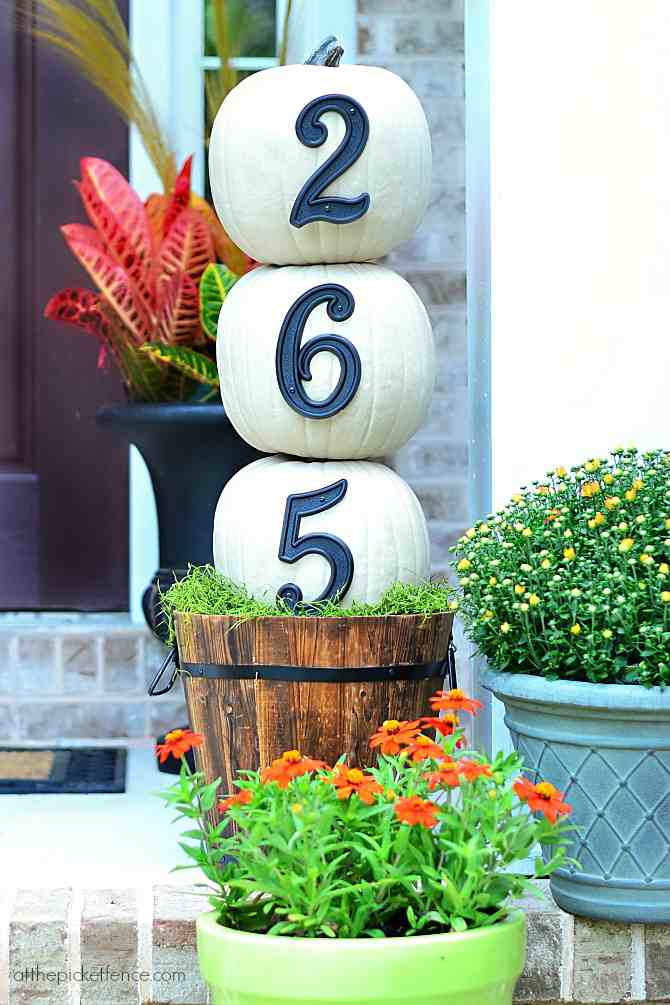 NO-CARVE PUMPKINS » A BEAUTIFUL MESS
This writer might be one of the few people who loves the feeling of pumpkin guts on her hands, but carving your pumpkin shortens its shelf (or porch) life. Try no-carve decorating options like painting, stenciling and gluing leaves or other embellishments instead. This technique is often more kid-friendly, too.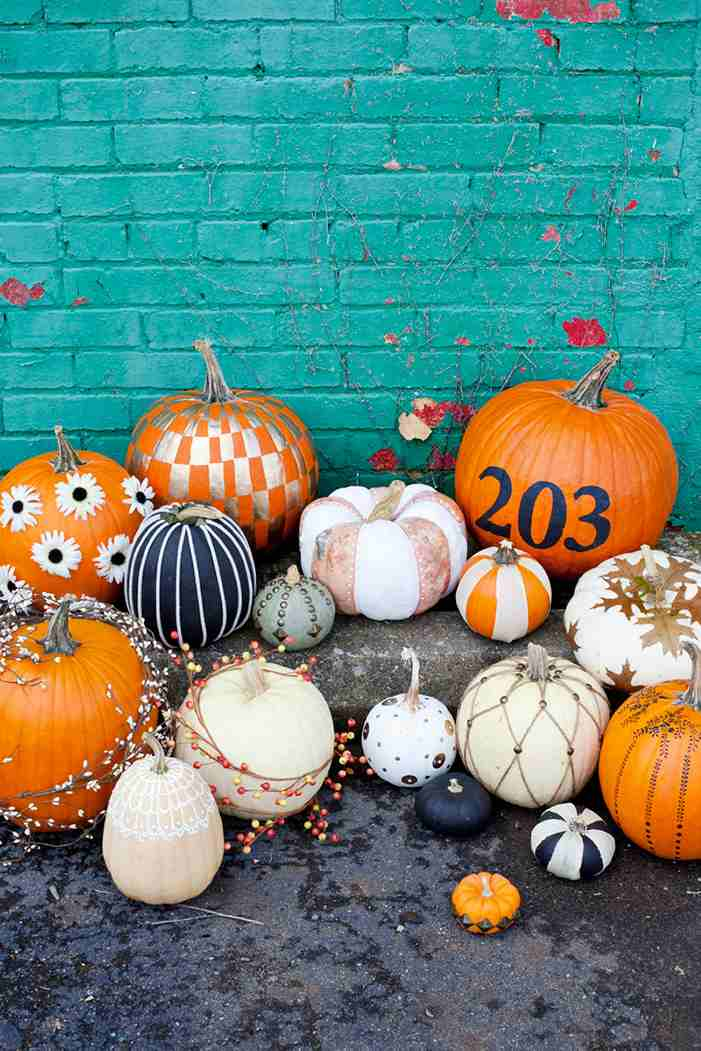 FALL PATIO PILLOWS » TIDBITS
A low-investment way to update your front porch for the season is to switch out the cushions on your patio furniture or add textiles like blankets to create the cozy vibe. This DIY fall project involves printing designs onto pillows. If sewing is more up your alley, you can always make yourself some new pillowcases or slipcovers that match your fall color scheme.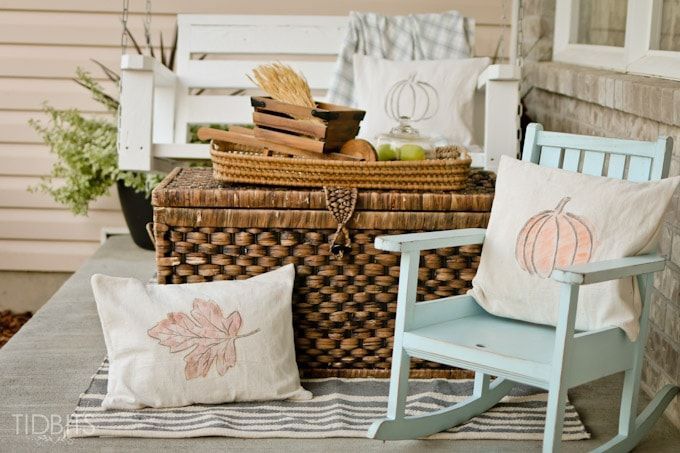 CUSTOMIZED GARLAND » SOUTHERN LIVING
Don't wait until Christmas to hang garland. Use fall foliage – these look like magnolia leaves – or, if you can't find something exactly to your taste, buy a basic garland and spice it up with pumpkins and other accessories you love.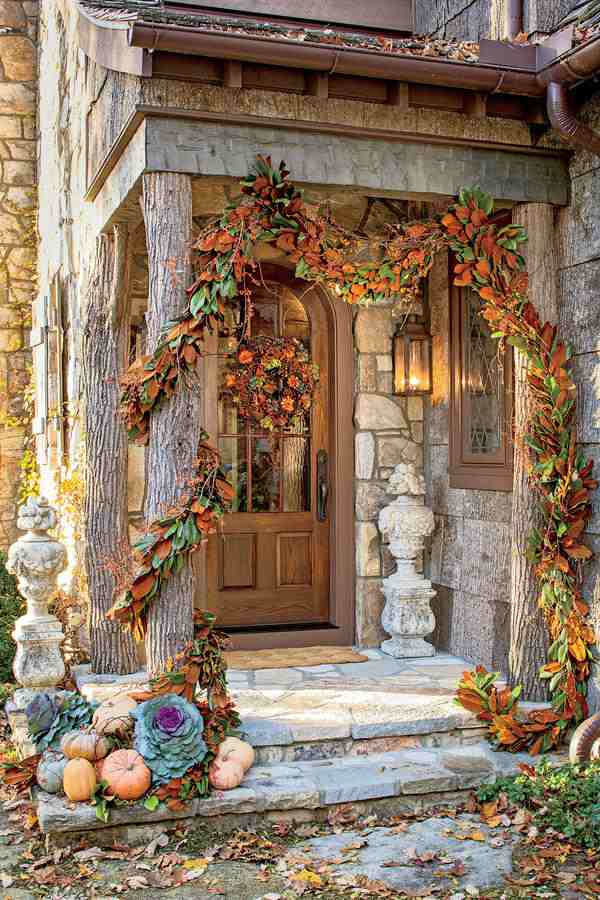 CRAFTY KIDS' WINDCHIME » THE BENSON STREET
Let the kids get in on the fall décor action by helping them craft a new windchime for the front porch. This one uses a mix of store-bought items and those found in the yard. The key is to let their creativity run free so they can put their own stamp on the home you share.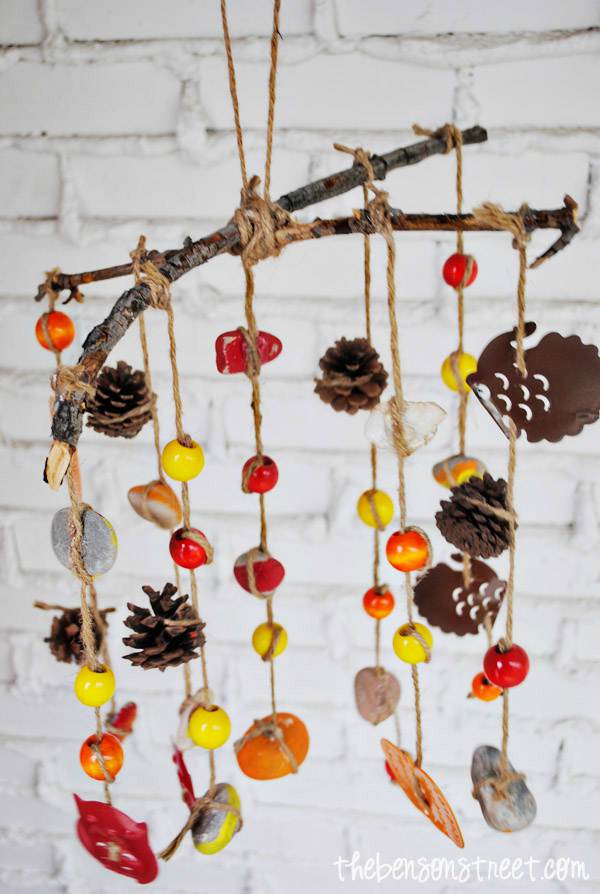 FEEDER FOR FALL BIRDS » THE GARDEN ROOF COOP
Feeding local birds through the fall is a great way to help them store up energy for migration or supplement their diet when food sources run low. Stock it with black oil sunflower seed, suet, nuts, cracked corn and other foods that are best for birds in the fall.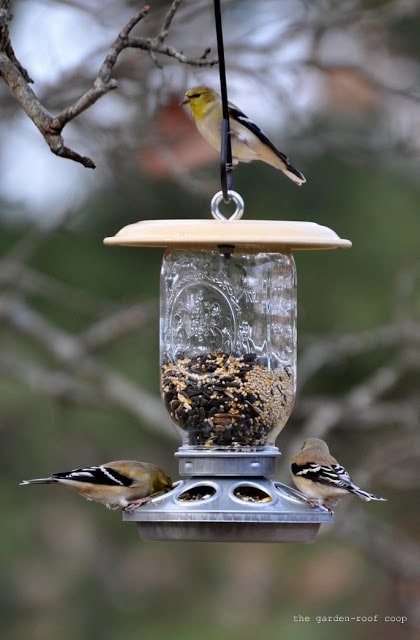 SEASONAL VEGETABLE WINDOW BOX » DRIVEN BY DÉCOR
Use the season's bounty with any of your plantings. We especially love this unique take on a fall window box that uses just a single flower. The rest is peppers, gourds and ornamental cabbage. Kale is another common fall-foliage vegetable to try for curb appeal.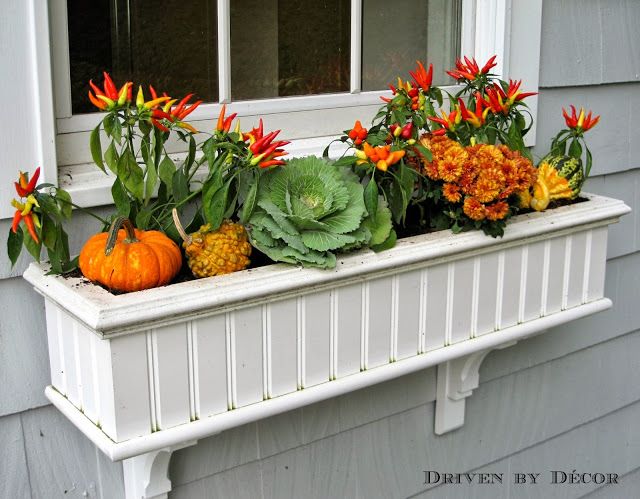 FALL CONTAINER GARDENS » HOUZZ
Potted plants are always in season. The greenery – or in the case of fall, orangery? – can be switched out easily. Even the containers themselves can help create that seasonal festive look. Consider different materials. A wooden crate lends itself to an apple-picking, PSL-sipping ambience. Make your best fall planter ideas a reality and place your containers along your front porch and walkway or even out by the mailbox.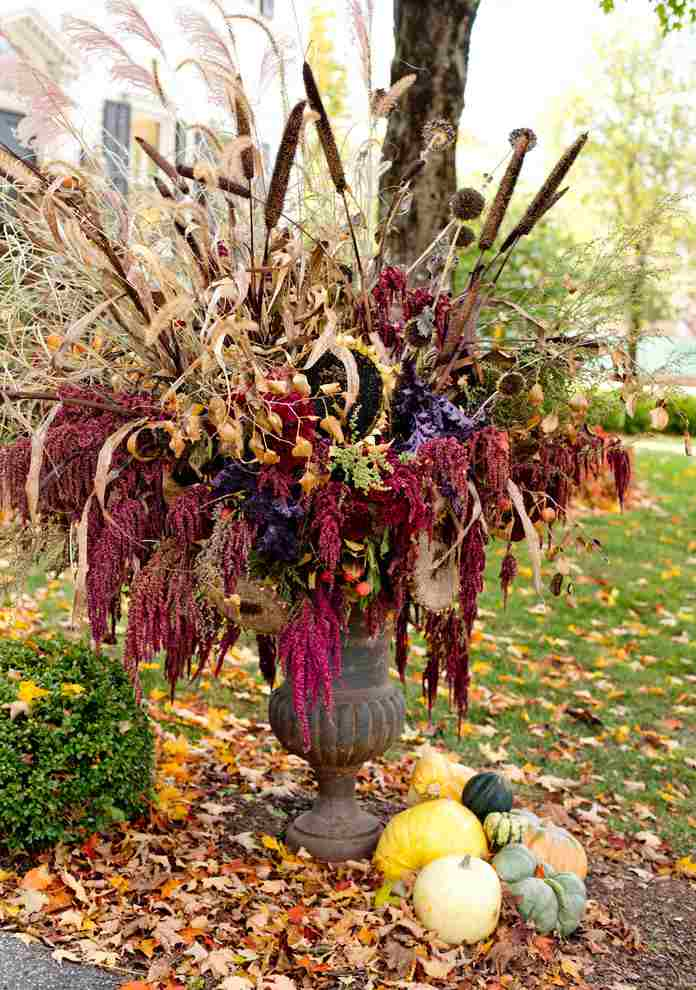 Photo by Rikki Snyder - Search home design design ideas
BLACK CAT DECOR » HGTV
Line your walkway with some not-too-spooky Halloween décor. Black cat cut-outs are cute and seasonal, but HGTV also has tutorials for giant rats, crows and owls, if that's more your style.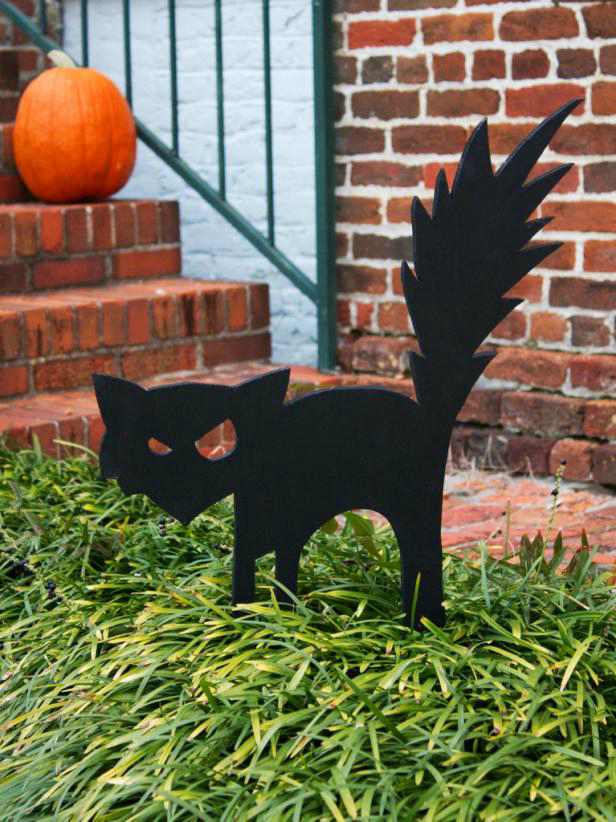 METALLIC ACCENTS » HGTV
Copper accessories add just enough glitz to offset natural, matte finishes like wood and foliage commonly seen in fall décor. Because copper is in the gold family, it will still complement other fall elements seamlessly. Incorporate copper in fixtures like lighting or paint for pumpkins, flower pots and more.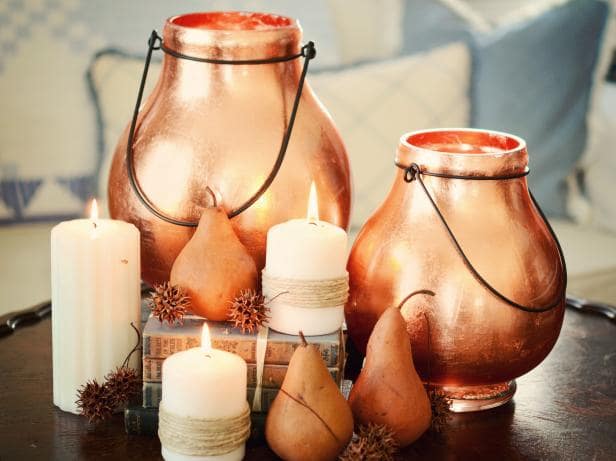 COZY FALL PORCH LIGHTING » BETTER HOMES & GARDENS
The night might be crisper, but with a blanket and some warm company, you can still hang out on the porch after dark. String lights, lanterns or candles can help keep the mood bright.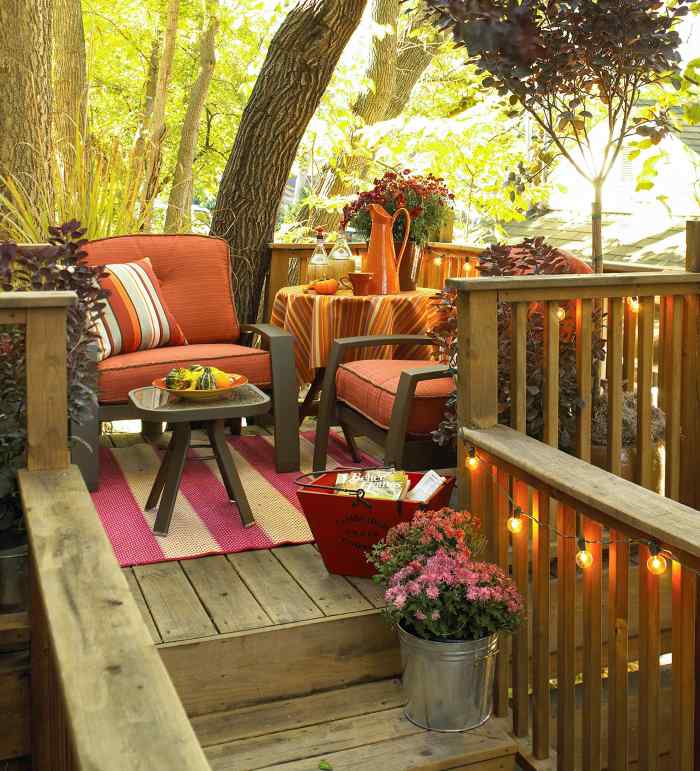 Photo by Better Homes & Gardens
PET DOORS CAN BE DECOR » HOUZZ
If you have a screened-in porch and a pup, fall is the perfect season for installing a pet door. When the weather gets muddy and the early-morning temperatures drop, you'll appreciate having a buffer zone where you can wipe down your dog's paws before letting them in the house and where you can wait in the semi-warmth while they take care of business. To keep your home secure, install the pet door on the screen door, not your main entryway.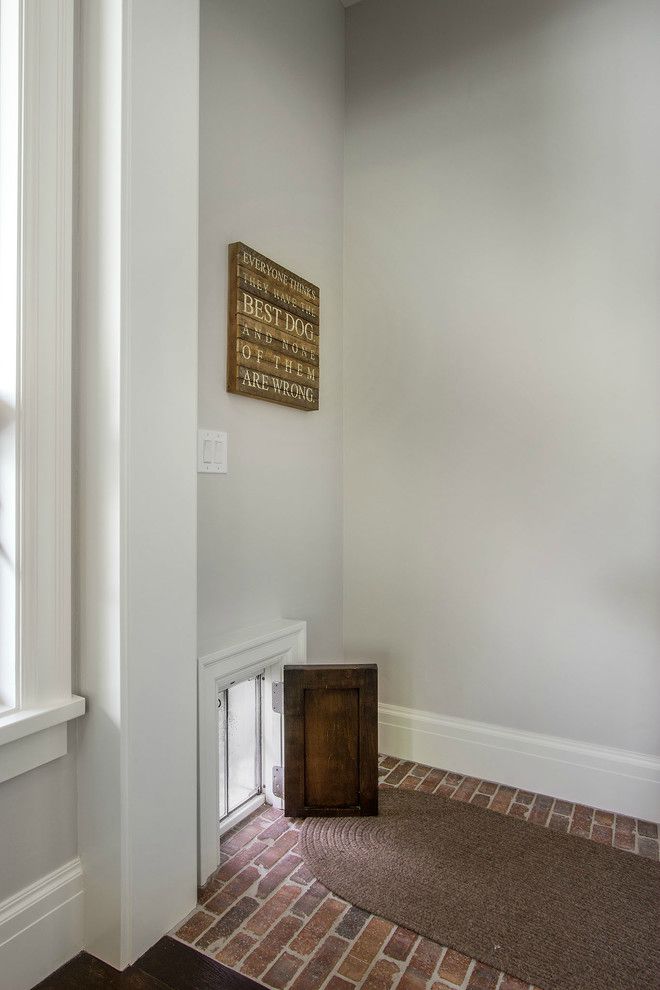 Photo by Upland Development, Inc. - Browse entryway ideas
FALL DECOR ON EVERY LEVEL » COUNTRY LIVING
Take your favorite DIY fall project ideas and take them vertically. If you have a second-story porch, balcony or simply a façade that craves some décor, take advantage of it.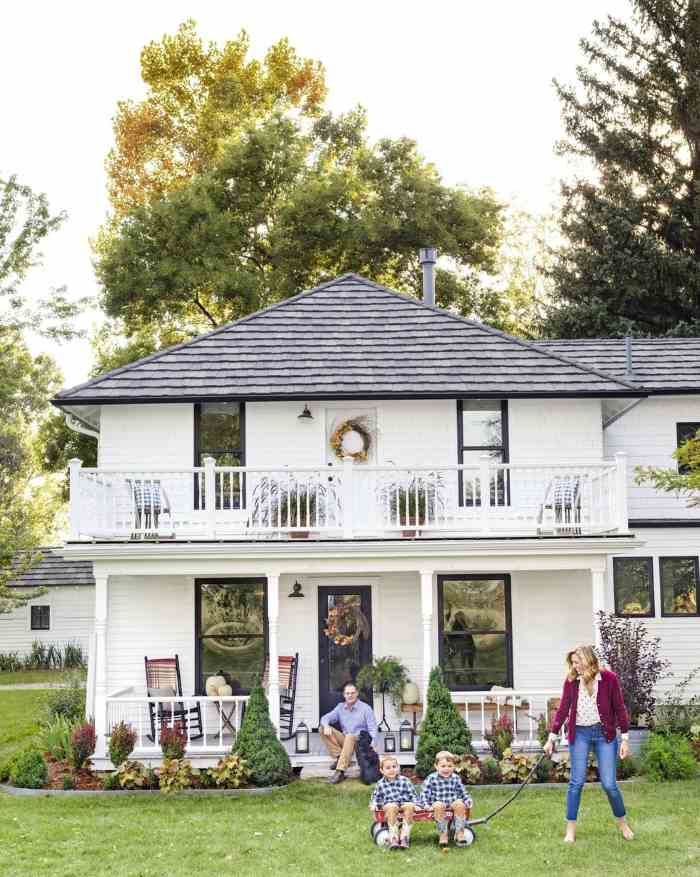 A LITTLE BIT OF EVERYTHING » JENNA SUE DESIGN
It is possible to choose all of your favorite fall décor without your porch looking overcrowded. Stick with a single color palette – classic fall tones offset with neutral whites in this case – for a more cohesive look. The yellow mums play nicely with the warm glow of the lanterns, the detailing on the flower pots gets new life next to the orange pumpkins and the white gourds complement the rocking chair to lighten the entire scene.